Febenino Posted on November 17 2023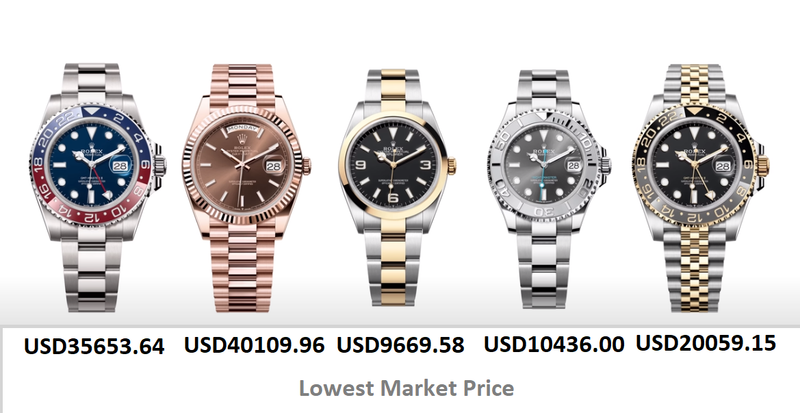 Recent market activity within the luxury watch sector has seen a significant downtrend, according to industry experts. The market as a whole is quiet, with watch prices dropping significantly from its peak in March 2022. Amidst all the doom and gloom however, lies a unique opportunity for true timepiece connoisseurs to purchase Rolex watches at lower prices.
Today we explore some of the Rolex models that have seen significant decrease in prices. One particular model that stands out is the GMT Master II 126719 BLRO, better known as the ''Pepsi''. This platinum watch is highly sought after, with a retail price four times higher than the steel version. In its prime, this watch was priced at over USD$51,297.50, but now it can be found in the second-hand market for slightly more than USD$34,625.82. There are even brand new ones available for a little under USD$38,473.13. This model presents a great opportunity for watch enthusiasts.
Another notable Rolex model is the Day-Date, which many consider to be the most representative of the brand. Reference number 228235, an all-rose gold 40mm watch, is available at a price that is 4% lower than the retail price. Various dial options, including brown, silver, and white, can also be found at prices lower than those set by Rolex. The Day-Date's iconic presidential strap and dominant design make it a popular choice among collectors.
The Explorer Reference Number 124273 is another model that has seen a significant drop in price. This watch, known for its rose gold lining and black face, is 36mm in size and can be purchased for 18% less than the retail price. Whether you prefer a new or second-hand piece, there are plenty of options available.
For those looking for a unique Rolex watch, the Yacht Master 37mm Reference Number 268622 is worth considering. Its platinum construction, paired with the Baby Blue accents on the second hand and "Yacht Master" on the dial, make it truly eye-catching. Despite a retail price of USD$11,554.76, there are several watches available on Chrono 24 for approximately USD$10386.28, a discount of roughly 10%.
Lastly, the most anticipated model expected in 2023 is the GMT Master II 126713GRNR. Known for its stunning color combination, this gold watch stands out among the rest. While the price for this model is currently higher compared than its retail price, there are still possibilities for negotiations .
It is crucial to recognize that Rolex is a dominant player in the market, and any shifts in their sales methods can have significant impacts on the industry as a whole. The hope is that Rolex establishes a healthy system that allows genuine watch enthusiasts to acquire their timepieces rather than having them exclusively reserved by speculators.
With prices dropping significantly, models such as the Pepsi, Day-Date, Explorer, Yacht Master, and the anticipated GMT Master II offer great value for watch enthusiasts. However, it is essential to approach these purchases with caution and not engage in speculative behavior. With careful consideration and research, one can find exceptional deals on Rolex timepieces.
When purchasing your new Rolex, consider STYX Watch Protection Film to help retain your investments value!